Lorcana Kartenpreise 04.09.2023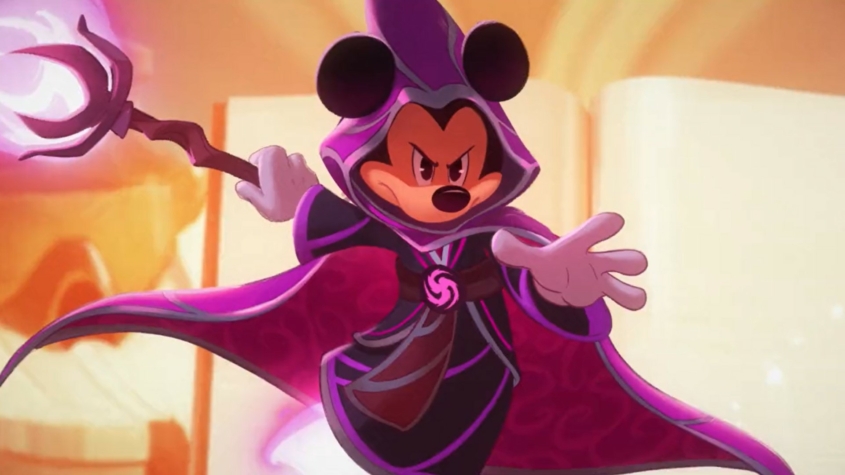 Lorcana ist als Sammelkartenspiel natürlich auch für Sammler interessant, jedoch möchte man auch Spieler beim Deckbau oder Tausch einen ungefähren Wert kennen, was eine Karte wert ist. Wir schauen uns mal die Kartenpreise für Lorcana kurz nach offiziellem Release und dem ersten Wochenende auf Cardmarket an. Im Abstand von vier Wochen werden wir hier die Wertentwicklung weiter beobachten.
Die untere Tabelle enthält alle Preise innerhalb der Europäischen Union, d. h. wir vermeiden Zoll- und Zollabwicklungskosten durch die Post und nur für die englischen Karten, da diese den höchsten Sammlerwert auch auf Jahre hin gesehen haben werden.
Commons / Uncommons
Man sieht schnell, dass die meisten der Common und Uncommons nur wenige Cent wert sind.
Ausreißer ist hier Flynn Rider, der ein Staple in Decks mit grün ist, denn er kostet den Gegner bei Herausforderungen immer auch eine Handkarte und die sind bekanntlich sehr kostbar in Lorcana.
Rares
Iago, Loud-Mouther Parrot #80 scheiont keiner zu möge und auch bisher kein Deck mit ihm zu bauen. Er ist im Preisbereich der Commons und Uncommons.
Der Rest der Rares baut ab 10 Cent aufwärts seinen Wert auf mit den Spitzenreitern Lilo, Making a Wish #9, Be prepared #128 und Kuzco, Temperamental Emperor #84.
Lilo ist in vielen Bernstein-Decks ein Staple, da sie in Combo mit Simba, Protective Cub #20, der sie schützt, früh Druck aufbauen kann.
Be prepared ist aktuell der einzige gloable Removal im Spiel und sehr stark.
Kuzco hingegen ist durch seinen eingebauten Konter-Banish und die Notwendigkeit ihn durch seinen Legendenwert herauszufordern, um ihn zu stoppen, ebenfalls eine gesetzte Karte in Smaragd-Decks.
Super Rares
Tinker Bell, Giant Fairy #193 ist die letzten Tage explodiert, vermutlich aufgrund von Steel als unterstützende Farbe in vielen Decks wie Amethyst, Bernstein und Smaragd. Auch Ariel, Spectacular Singer #2 hat gefühlt ein wenig Auftrieb gehabt durch ein neu bekannt gewordenes Song-Deck.
Verloren hat dagegen Aladdin, Heroic Outlaw #104.
Legendaries
Hier gehen vor allem Rapunzel, Gifted with Healing #18 und Elsa, Spirit of Winter #42 immer mehr nach oben. Die Foil-Preise explodieren regelrecht und deren Verfügbarkeit sinkt zeitgleich immer mehr.
Ob sich das wird halten können mit den nächsten zwei Sets und dem Reprint im 1. Quartal 2024, muss man weiter beobachten. Viel günstigere Karten würde ich hier, allein schon durch neue Deckideen nicht erwarten.
Enchanted
Da ist der Markt zu dynamisch. Vielleicht schreiben wir im kommenden Beitrag etwas hierzu.
| | | | | |
| --- | --- | --- | --- | --- |
| # | NAME | SELTENHEIT | PREIS FOIL | PREIS NON-FOIL |
| 18 | Rapunzel, Gifted with Healing | Legendary |            55,00 € |            35,00 € |
| 42 | Elsa, Spirit of Winter | Legendary |            70,00 € |            35,00 € |
| 113 | Maleficent, Monstrous Dragon | Legendary |            62,48 € |            31,00 € |
| 142 | Belle, Strange but Special | Legendary |            47,50 € |            25,00 € |
| 147 | Hades, Infernal Schemer | Legendary |            39,90 € |            18,95 € |
| 115 | Mickey Mouse, Brave Little Tailor | Legendary |            75,00 € |            18,00 € |
| 193 | Tinker Bell, Giant Fairy | Super Rare |            27,50 € |            17,75 € |
| 21 | Stitch, Carefree Surfer | Legendary |            30,00 € |            11,00 € |
| 9 | Lilo, Making a Wish | Rare |            15,00 € |            10,00 € |
| 23 | Stitch, Rock Star | Super Rare |            17,00 € |            10,00 € |
| 59 | Ursula, Power Hungry | Legendary |            28,00 € |              9,99 € |
| 195 | A Whole New World | Super Rare |            20,00 € |              8,90 € |
| 128 | Be Prepared | Rare |            17,00 € |              7,35 € |
| 84 | Kuzco, Temperamental Emperor | Rare |            12,95 € |              7,00 € |
| 82 | John Silver, Alien Pirate | Legendary |            15,00 € |              6,00 € |
| 114 | Maui, Hero to All | Rare |              9,95 € |              3,55 € |
| 2 | Ariel, Spectacular Singer | Super Rare |              9,99 € |              3,50 € |
| 48 | Maleficent, Biding Her Time | Rare |              9,00 € |              3,49 € |
| 192 | Te Kā, Heartless | Legendary |            15,00 € |              3,40 € |
| 70 | Beast, Wolfsbane | Legendary |            15,60 € |              3,00 € |
| 56 | The Queen, Wicked and Vain | Super Rare |              7,50 € |              2,95 € |
| 163 | Let It Go | Rare |              5,98 € |              2,95 € |
| 178 | Gantu, Galactic Federation Captain | Legendary |            14,99 € |              2,50 € |
| 33 | Lantern | Rare |              2,79 € |              1,83 € |
| 168 | Fishbone Quill | Rare |              4,79 € |              1,79 € |
| 10 | Maximus, Palace Horse | Super Rare |              5,99 € |              1,50 € |
| 66 | Magic Mirror | Rare |              4,00 € |              1,50 € |
| 78 | Hans, Scheming Prince | Rare |              5,00 € |              1,50 € |
| 104 | Aladdin, Heroic Outlaw | Super Rare |              3,00 € |              1,50 € |
| 139 | Aurora, Dreaming Guardian | Super Rare |              2,95 € |              1,50 € |
| 157 | Robin Hood, Unrivaled Archer | Super Rare |              6,00 € |              1,50 € |
| 180 | Hans, Thirteenth in Line | Super Rare |              4,90 € |              1,50 € |
| 198 | Grab Your Sword | Rare |              5,50 € |              1,50 € |
| 75 | Genie, On the Job | Super Rare |              5,20 € |              1,00 € |
| 44 | Jafar, Keeper of Secrets | Rare |              4,00 € |              0,98 € |
| 51 | Mickey Mouse, Wayward Sorcerer | Super Rare |              2,49 € |              0,93 € |
| 90 | Mother Gothel, Selfish Manipulator | Super Rare |              3,60 € |              0,90 € |
| 137 | Ariel, Whoseit Collector | Rare |              4,00 € |              0,80 € |
| 152 | Maurice, World-Famous Inventor | Rare |              3,49 € |              0,80 € |
| 186 | Mickey Mouse, Musketeer | Rare |              3,00 € |              0,80 € |
| 149 | Jasmine, Queen of Agrabah | Rare |              3,89 € |              0,79 € |
| 29 | Just in Time | Rare |              3,50 € |              0,73 € |
| 159 | Tamatoa, So Shiny! | Super Rare |              3,00 € |              0,65 € |
| 6 | Hades, Lord of the Underworld | Rare |              3,49 € |              0,50 € |
| 68 | White Rabbit's Pocket Watch | Rare |              2,50 € |              0,50 € |
| 112 | Lefou, Instigator | Rare |              2,99 € |              0,50 € |
| 173 | Captain Hook, Captain of the Jolly Roger | Rare |              3,00 € |              0,50 € |
| 175 | Captain Hook, Thinking a Happy Thought | Rare |              2,99 € |              0,50 € |
| 88 | Mickey Mouse, Artful Rogue | Super Rare |              3,00 € |              0,49 € |
| 37 | Dr. Facilier, Agent Provocateur | Rare |              3,50 € |              0,45 € |
| 14 | Moana, Of Motunui | Rare |              0,95 € |              0,40 € |
| 118 | Mulan, Imperial Soldier | Super Rare |              1,20 € |              0,40 € |
| 34 | Ursula's Shell Necklace | Rare |              1,50 € |              0,35 € |
| 50 | Marshmallow, Persistent Guardian | Super Rare |              1,97 € |              0,30 € |
| 72 | Cruella de Vil, Miserable as Usual | Rare |              0,99 € |              0,30 € |
| 74 | Flynn Rider, Charming Rogue | Uncommon |              2,20 € |              0,30 € |
| 123 | Scar, Shameless Firebrand | Rare |              2,40 € |              0,30 € |
| 203 | Musketeer Tabard | Rare |              2,00 € |              0,30 € |
| 204 | Plasma Blaster | Rare |              1,50 € |              0,30 € |
| 61 | Zeus, God of Lightning | Rare |              2,49 € |              0,29 € |
| 136 | Sword of Truth | Rare |              1,50 € |              0,25 € |
| 5 | Hades, King of Olympus | Rare |              1,00 € |              0,24 € |
| 39 | Dr. Facilier, Remarkable Gentleman | Rare |              1,50 € |              0,20 € |
| 76 | Genie, Powers Unleashed | Rare |              2,98 € |              0,20 € |
| 126 | Te Kā, The Burning One | Super Rare |              2,99 € |              0,20 € |
| 85 | Lady Tremaine, Wicked Stepmother | Rare |              1,95 € |              0,18 € |
| 94 | Do It Again! | Rare |              1,29 € |              0,17 € |
| 30 | Part Of Your World | Rare |              1,89 € |              0,15 € |
| 125 | Stitch, Abomination | Rare |              2,00 € |              0,15 € |
| 134 | Poisoned Apple | Rare |              1,70 € |              0,15 € |
| 158 | Scar, Mastermind | Rare |              1,50 € |              0,15 € |
| 189 | Simba, Returned King | Rare |              0,75 € |              0,12 € |
| 41 | Elsa, Snow Queen | Uncommon |              5,00 € |              0,10 € |
| 71 | Cheshire Cat, Not All There | Uncommon |              2,49 € |              0,10 € |
| 97 | Steal from the Rich | Rare |              2,48 € |              0,10 € |
| 107 | Captain Hook, Ruthless Pirate | Rare |              1,90 € |              0,10 € |
| 151 | Maleficent, Uninvited | Rare |              3,50 € |              0,10 € |
| 162 | If It's Not Baroque | Rare |              1,70 € |              0,10 € |
| 185 | Maui, Demigod | Rare |              2,50 € |              0,10 € |
| 43 | Flotsam, Ursula's Spy | Rare |              1,80 € |              0,09 € |
| 1 | Ariel, On Human Legs | Uncommon |              0,50 € |              0,05 € |
| 4 | Goofy, Musketeer | Uncommon |              1,30 € |              0,05 € |
| 8 | Lefou, Bumbler | Uncommon |              1,00 € |              0,05 € |
| 16 | Prince Phillip, Dragonslayer | Uncommon |              0,70 € |              0,05 € |
| 25 | Be Our Guest | Uncommon |              0,70 € |              0,05 € |
| 35 | Anna, Heir to Arendelle | Uncommon |              0,99 € |              0,05 € |
| 67 | Ursula's Cauldron | Uncommon |              0,60 € |              0,05 € |
| 86 | Mad Hatter, Gracious Host | Uncommon |              1,20 € |              0,05 € |
| 130 | Dragon Fire | Uncommon |              3,00 € |              0,05 € |
| 135 | Shield of Virtue | Uncommon |              0,45 € |              0,05 € |
| 146 | Gramma Tala, Storyteller | Uncommon |              1,70 € |              0,05 € |
| 167 | Eye of the Fates | Uncommon |              0,90 € |              0,05 € |
| 170 | Scepter of Arendelle | Uncommon |              0,38 € |              0,05 € |
| 31 | You Have Forgotten Me | Uncommon |              1,20 € |              0,04 € |
| 53 | Pascal, Rapunzel's Companion | Uncommon |              0,95 € |              0,04 € |
| 172 | Beast, Hardheaded | Uncommon |              2,25 € |              0,04 € |
| 191 | Starkey, Hook's Henchman | Uncommon |              0,98 € |              0,04 € |
| 62 | Befuddle | Uncommon |              1,20 € |              0,03 € |
| 93 | Tinker Bell, Most Helpful | Common |              0,50 € |              0,03 € |
| 101 | Dr. Facilier's Cards | Uncommon |              0,30 € |              0,03 € |
| 184 | Lilo, Galactic Hero | Uncommon |              0,50 € |              0,03 € |
| 187 | Prince Eric, Dashing and Brave | Common |              0,40 € |              0,03 € |
| 3 | Cinderella, Gentle and Kind | Uncommon |              0,80 € |              0,02 € |
| 7 | Heihei, Boat Snack | Common |              0,75 € |              0,02 € |
| 11 | Maximus, Relentless Pursuer | Uncommon |              0,90 € |              0,02 € |
| 12 | Mickey Mouse, True Friend | Uncommon |              1,40 € |              0,02 € |
| 13 | Minnie Mouse, Beloved Princess | Common |              0,49 € |              0,02 € |
| 15 | Mr. Smee, Loyal First Mate | Common |              0,50 € |              0,02 € |
| 17 | Pumbaa, Friendly Warthog | Common |              0,37 € |              0,02 € |
| 19 | Sebastian, Court Composer | Common |              0,45 € |              0,02 € |
| 20 | Simba, Protective Cub | Common |              1,00 € |              0,02 € |
| 22 | Stitch, New Dog | Common |              0,75 € |              0,02 € |
| 24 | Timon, Grub Rustler | Common |              0,45 € |              0,02 € |
| 26 | Control Your Temper! | Common |              0,30 € |              0,02 € |
| 27 | Hakuna Matata | Common |              0,40 € |              0,02 € |
| 28 | Healing Glow | Common |              0,30 € |              0,02 € |
| 32 | Dinglehopper | Common |              0,18 € |              0,02 € |
| 36 | Archimedes, Highly Educated Owl | Common |              0,55 € |              0,02 € |
| 38 | Dr. Facilier, Charlatan | Common |              0,50 € |              0,02 € |
| 40 | Elsa, Queen Regent | Common |              0,48 € |              0,02 € |
| 45 | Jafar, Wicked Sorcerer | Common |              0,30 € |              0,02 € |
| 46 | Jetsam, Ursula's Spy | Common |              0,38 € |              0,02 € |
| 47 | Magic Broom, Bucket Brigade | Common |              0,35 € |              0,02 € |
| 49 | Maleficent, Sorceress | Common |              0,90 € |              0,02 € |
| 52 | Olaf, Friendly Snowman | Uncommon |              0,98 € |              0,02 € |
| 54 | Rafiki, Mysterious Sage | Uncommon |              0,90 € |              0,02 € |
| 55 | Sven, Official Ice Deliverer | Uncommon |              0,50 € |              0,02 € |
| 57 | The Wardrobe, Belle's Confidant | Common |              0,30 € |              0,02 € |
| 58 | Tinker Bell, Peter Pan's Ally | Common |              0,49 € |              0,02 € |
| 60 | Yzma, Alchemist | Common |              0,50 € |              0,02 € |
| 63 | Freeze | Common |              0,40 € |              0,02 € |
| 64 | Friends On The Other Side | Common |              1,50 € |              0,02 € |
| 65 | Reflection | Uncommon |              0,50 € |              0,02 € |
| 69 | Aladdin, Prince Ali | Common |              0,30 € |              0,02 € |
| 73 | Duke of Weselton, Opportunistic Official | Common |              0,35 € |              0,02 € |
| 77 | Genie, The Ever Impressive | Common |              0,40 € |              0,02 € |
| 79 | Horace, No-Good Scoundrel | Common |              0,25 € |              0,02 € |
| 80 | Iago, Loud-Mouthed Parrot | Rare |              1,10 € |              0,02 € |
| 81 | Jasper, Common Crook | Uncommon |              0,50 € |              0,02 € |
| 83 | Jumba Jookiba, Renegade Scientist | Uncommon |              0,30 € |              0,02 € |
| 87 | Megara, Pulling the Strings | Common |              0,29 € |              0,02 € |
| 89 | Mickey Mouse, Steamboat Pilot | Common |              0,30 € |              0,02 € |
| 91 | Peter Pan, Never Landing | Common |              0,30 € |              0,02 € |
| 92 | Tamatoa, Drab Little Crab | Uncommon |              0,45 € |              0,02 € |
| 95 | Mother Knows Best | Uncommon |              0,90 € |              0,02 € |
| 96 | Stampede | Common |              0,40 € |              0,02 € |
| 98 | Sudden Chill | Common |              0,30 € |              0,02 € |
| 99 | The Beast is Mine! | Uncommon |              0,60 € |              0,02 € |
| 100 | Vicious Betrayal | Common |              0,35 € |              0,02 € |
| 102 | Stolen Scimitar | Common |              0,30 € |              0,02 € |
| 103 | Abu, Mischievous Monkey | Common |              0,20 € |              0,02 € |
| 105 | Aladdin, Street Rat | Common |              0,95 € |              0,02 € |
| 106 | Captain, Colonel's Lieutenant | Uncommon |              0,20 € |              0,02 € |
| 108 | Donald Duck, Boisterous Fowl | Uncommon |              0,90 € |              0,02 € |
| 109 | Elsa, Ice Surfer | Common |              0,66 € |              0,02 € |
| 110 | Gaston, Arrogant Hunter | Common |              0,90 € |              0,02 € |
| 111 | Goofy, Daredevil | Common |              0,47 € |              0,02 € |
| 116 | Minnie Mouse, Always Classy | Common |              0,25 € |              0,02 € |
| 117 | Moana, Chosen by the Ocean | Uncommon |              0,60 € |              0,02 € |
| 119 | Peter Pan, Fearless Fighter | Common |              0,30 € |              0,02 € |
| 120 | Pongo, Ol' Rascal | Common |              0,40 € |              0,02 € |
| 121 | Rapunzel, Letting Down Her Hair | Uncommon |              0,30 € |              0,02 € |
| 122 | Scar, Fiery Usurper | Common |              0,25 € |              0,02 € |
| 124 | Sergeant Tibbs, Courageous Cat | Common |              0,30 € |              0,02 € |
| 127 | Tigger, Wonderful Thing | Uncommon |              0,50 € |              0,02 € |
| 129 | Cut to the Chase | Uncommon |              0,50 € |              0,02 € |
| 131 | Fan the Flames | Uncommon |              0,89 € |              0,02 € |
| 132 | He's Got a Sword! | Common |              0,20 € |              0,02 € |
| 133 | Tangle | Common |              0,25 € |              0,02 € |
| 138 | Aurora, Briar Rose | Common |              0,42 € |              0,02 € |
| 140 | Aurora, Regal Princess | Uncommon |              1,00 € |              0,02 € |
| 141 | Belle, Inventive Engineer | Uncommon |              1,98 € |              0,02 € |
| 143 | Chief Tui, Respected Leader | Uncommon |              0,30 € |              0,02 € |
| 144 | Donald Duck, Strutting His Stuff | Common |              0,40 € |              0,02 € |
| 145 | Flounder, Voice of Reason | Common |              0,30 € |              0,02 € |
| 148 | Jasmine, Disguised | Common |              0,38 € |              0,02 € |
| 150 | Maleficent, Sinister Visitor | Common |              0,45 € |              0,02 € |
| 153 | Merlin, Self-Appointed Mentor | Common |              0,39 € |              0,02 € |
| 154 | Mickey Mouse, Detective | Common |              0,89 € |              0,02 € |
| 155 | Mufasa, King of the Pride Lands | Common |              0,30 € |              0,02 € |
| 156 | Philoctetes, Trainer of Heroes | Common |              0,39 € |              0,02 € |
| 160 | Triton, The Sea King | Uncommon |              0,98 € |              0,02 € |
| 161 | Develop Your Brain | Common |              0,75 € |              0,02 € |
| 164 | One Jump Ahead | Uncommon |              1,00 € |              0,02 € |
| 165 | Work Together | Common |              0,20 € |              0,02 € |
| 166 | Coconut Basket | Uncommon |              0,40 € |              0,02 € |
| 169 | Magic Golden Flower | Common |              0,35 € |              0,02 € |
| 171 | Aladdin, Cornered Swordsman | Common |              0,30 € |              0,02 € |
| 174 | Captain Hook, Forceful Duelist | Common |              0,50 € |              0,02 € |
| 176 | Cerberus, Three-Headed Dog | Common |              0,35 € |              0,02 € |
| 177 | Donald Duck, Musketeer | Uncommon |              1,60 € |              0,02 € |
| 179 | Goons, Maleficent's Underlings | Common |              0,10 € |              0,02 € |
| 181 | Hercules, True Hero | Common |              0,40 € |              0,02 € |
| 182 | Kristoff, Official Ice Master | Common |              0,49 € |              0,02 € |
| 183 | Kronk, Right-Hand Man | Uncommon |              0,75 € |              0,02 € |
| 188 | Simba, Future King | Common |              0,40 € |              0,02 € |
| 190 | Simba, Rightful Heir | Uncommon |              0,98 € |              0,02 € |
| 194 | Tinker Bell, Tiny Tactician | Common |              1,00 € |              0,02 € |
| 196 | Break | Common |              0,30 € |              0,02 € |
| 197 | Fire the Cannons! | Common |              0,49 € |              0,02 € |
| 199 | Ransack | Uncommon |              0,28 € |              0,02 € |
| 200 | Smash | Uncommon |              0,99 € |              0,02 € |
| 201 | Beast's Mirror | Common |              0,85 € |              0,02 € |
| 202 | Frying Pan | Uncommon |              0,32 € |              0,02 € |
Bild: Ravensburger / Disney
https://arachnet.de/wp-content/uploads/2023/09/Disney-Lorcana-Teaser.jpg
1080
1920
HarlequinOfDeath
http://arachnet.de/wp-content/uploads/2018/11/ArachNet-Logo-ArachNet.de_.png
HarlequinOfDeath
2023-09-05 14:27:21
2023-09-05 14:31:07
Lorcana Kartenpreise 04.09.2023