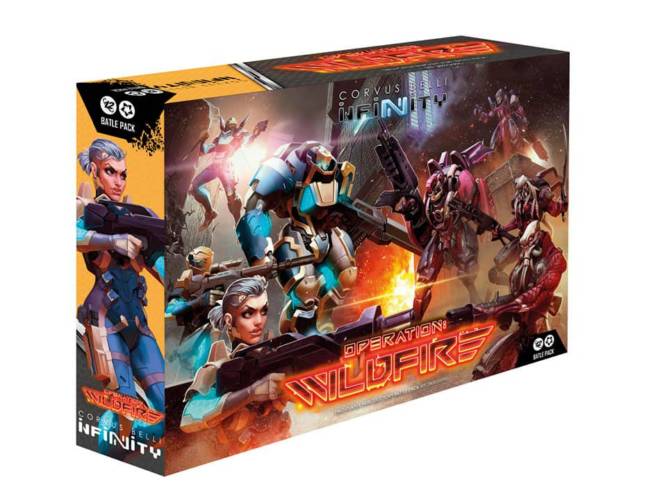 Nach einigen kleinen Teasern werden wir bereits vor offizieller Video-Vorstellung der Boxen mit der Ankündigung der August-Releases belohnt, die ab dem 16. Juli bis zum 5. August vorbestellbar sein werden.

Für Aristeia! gibt es eine neue Erweiterung sowie die Neopren-Version des bestehenden Spielbretts: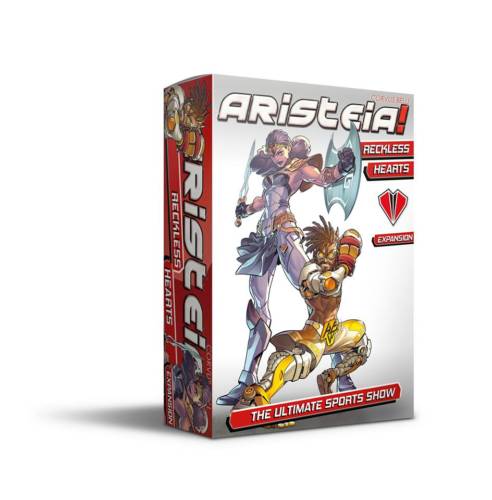 Reckless Hearts 17,99 €

From where the Human Sphere ends comes Axl Steel, a fighter who practices a strange martial discipline – a mix of kickboxing, classic boxing and judo. Since childhood, Axl has worked in the many orbital factories connected in the Human Edge. In the not so distant past, his employers organized an illegal Aristeia! competition and Axl shined so much that they automatically decided to make him an AGL star.
Hippolyta's character was created in close collaboration with Manu (aka Kelthret), the first season AGL champion. He earned the right to participate in the design of an Aristeia! character. Manu shared with us his passion for the Infinity Myrmidons and suggested a Myrmidon Officer as a starting point. The result is a spectacular support leader, both in design and game profile.
Hippolyta is hier in ihrer Aristeia!-Version verfügbar und man findet mehr zu ihr in der Beschreibung der Operation: Wildfire-Box, bei der sie in ihrer Infinity-Version die limitierte Preorder-Miniatur sein wird.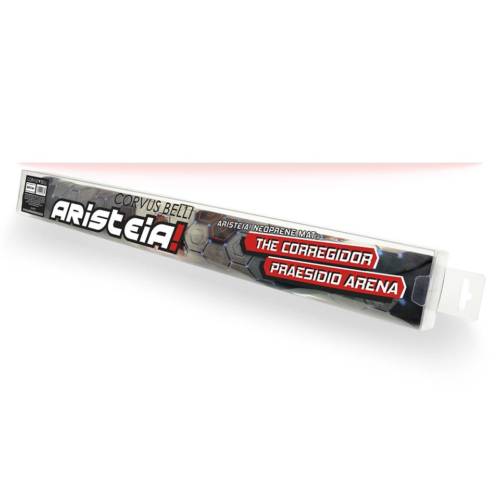 The corregidor praesidio arena 19,99 €
The Core Box's original HexaDome design in a neoprene format – bring the arena with you anywhere!
Der Preis dieser Matte – auch wenn jeder Spieler mit der Core-Box diese quasi als Brett bereits hat – ist einfach der Hammer. Für lediglich 20 € erhält man eine widerstandsfähige und gut transportierbare Version des Standard-Hexadome.
Jedoch, der große Knaller, der sich die letzten Tage anbahnte, ist natürlich die Operation: Wildfire-Box: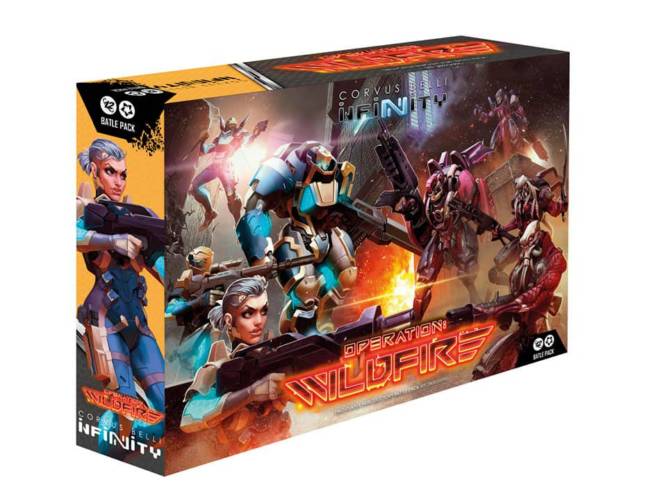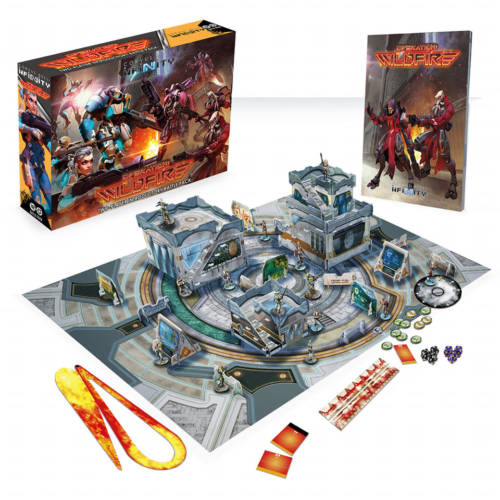 Operation: Wildfire 109,95 €
NEW: includes new scenery of higher quality (cardboard of 3mm thickness) and new bases with line of fire.
In order to get the secrets hidden in the databases of the Sálvora Governmental Complex, the insidious Shasvastii have set a wildfire in the surrounding forest. While the flames threaten to devour the entire complex, the brave O-12 troopers must fight off the alien forces and keep both the secrets and the civilians safe and sound, because their duty requires no less!
Operation: Wildfire Battle Pack is a box containing 14 miniatures belonging to two different armies, an introductory ruleset, cardboard scenery, dice… everything you need to start collecting Infinity or just to complete your collection!
In addition, Operation: Wildfire is the way to introduce yourself to the Infinity ruleset, as it includes a full color 84-page rulebook (English/Spanish) with 5 tutorial missions to learn to play, making it easy to understand the Infinity core mechanics.
In this booklet you will also find the background and troop profiles of all the troops in the Battle Pack. There is also a brief guide to the Infinity universe and advice on exploring it in more depth.
Operation: Wildfire contains 2 totally new Starter Packs of two different factions: O-12, which is a new addition to the Infinity universe, and the Shasvastii from the Combined Army. It also includes 2 exclusive miniatures, one per faction, only available in this Battle Pack. A total of 14 highly detailed metal miniatures!
O-12 Starter Pack, containing the following figures:
3 Kappa Troopers
1 Delta Trooper
1 Epsilon Trooper
1 Gangbuster
1 Gamma Unit, Operation: Wildfire Exclusive Figure
Shasvastii Starter Pack, containing the following figures:
3 Nox Troopers
1 Mentor
1 Caliban
1 Shrouded
1 Gwailo, Operation: Wildfire Exclusive Figure
Bei der Vorbestellung kriegt man zudem eine exklusive Vorbesteller-Miniatur kostenfrei dazu:
Champion of the Steel Phalanx, Aristeia! celebrity and covert agent of O-12, Hippolyta is a real warrior cloaked with the best of smiles and a halo of fame. As part of her cover, this Amazon Officer acts publicly as an honorary ambassador for O-12, as a symbol of the struggle for peace, justice, and equality, shining like a beacon of hope in the midst of darkness.
Darüber hinaus gibt es wie letztes Jahr ein Erweiterungspaket, das vermutlich die November-Releases der enthaltenen Miniaturen vorwegnimmt: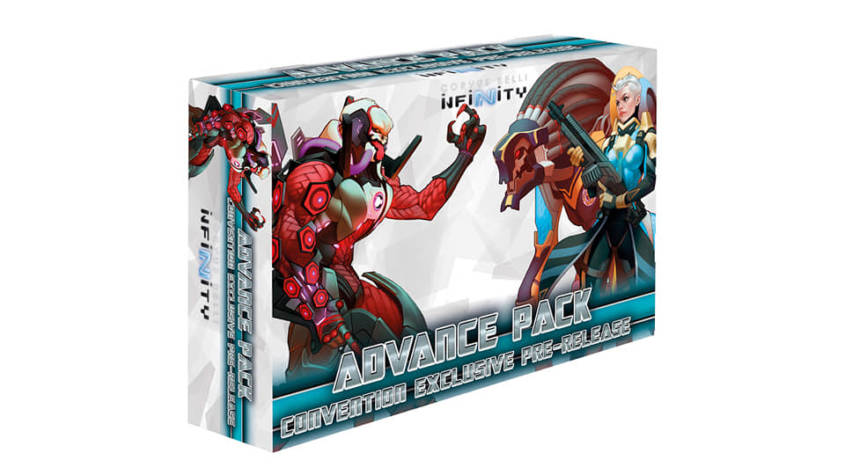 Advance Pack Convention Exclusive Pre-Release 29,95 €
On the shores of the Free Island of Sálvora, O-12 and Shasvastii special units engage in combat to decide the destiny of the planet Paradiso.
TEAM SIRIUS
Team Sirius was conceived as a special K-9 team with synchronized robotic units. As the mythological hound they are named after, once this detective squad scents prey, they never give up on the trail; they are unrelenting. Team Sirius is fate coming for you with a badge and a gun!
SHASVASTII AIRBORNE INFILTRATION GROUP CADMUS
A Cadmus trooper will always be at least as lethal as any adversary it confronts. The Cadmus are the pinnacle of malleability, able to scan any enemy trooper nearby and copy his capabilities, a frighteningly fast and effective way to create elite troops.
Exclusive box advancing further releases, available only during the pre-order.
This box includes:
Team Sirius Boarding Shotgun, D-Charges + 1 SiriusBot
Shasvastii Cadmus Hacker Boarding Shotgun
Ein weiterer Knaller wird auch diese Veröffentlichung, die nicht nur mit Infinity und Aristeia!, sondern auch mit Defiance kompatibel sein wird!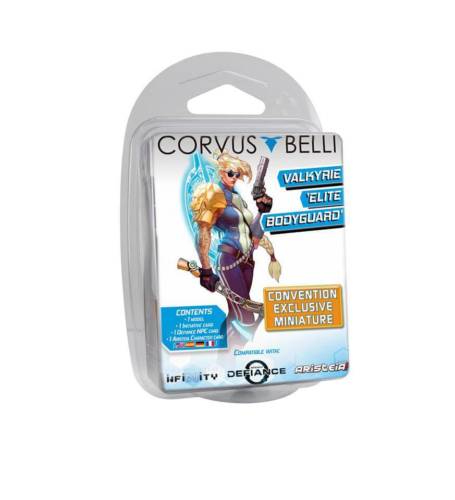 Valkyrie, Elite Bodyguard (Convention Exclusive Model) 19,95€
Valkyrie is not only an Aristeia! star and a member of the Soldiers of Fortune team, she is also the spearhead of the assault and boarding team of the Foreign Company, the luxury mercenary group which only works for the rich and powerful.
Und last but not least wurde auch neue Turnierpaket vorgestellt, leider gab es noch keine Informationen zur enthaltenen Miniatur:
Competition Pack ITS Season 11 "Stakeout" 39,95 €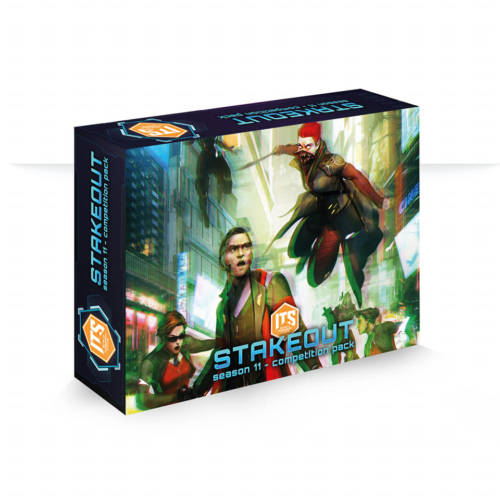 The new season of ITS begins!
In this season, the Infinity community will be able to test their competitive skills. Players will find everything they need to organize official Infinity tournament and find exclusive prizes inside this Competition Pack.
This package includes: 
1x Exclusive Miniature
1x Character Card
1x Character Badge
3x Random Patches
2x Twenty-Sided Dice
1x Secure HVT Classifed Card
2x Limited Edition Coins
1x Neoprene Smoke Template
1x Exclusive Winner's Medallion
1x Pack of 50 Card Sleeves
1x ITS Code
Bilder: Corvus Belli
http://arachnet.de/wp-content/uploads/2019/07/Infinity-Operation-Wildfire-arachNET.de_.jpg
720
960
HarlequinOfDeath
http://arachnet.de/wp-content/uploads/2018/11/ArachNet-Logo-ArachNet.de_.png
HarlequinOfDeath
2019-07-01 14:00:26
2020-09-08 11:37:35
Gen Con Releases 2019